Committed to Your Well-Being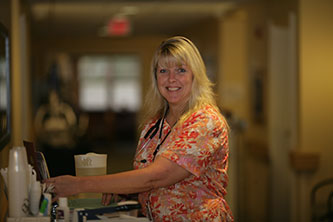 If staying healthy and active is important to you, Quarry Hill could be one of the smartest moves you'll ever make.
In collaboration with organizations within our healthcare family and several community organizations, we offer a diverse health-and-wellness program that emphasizes active involvement in life, according to each person's particular interests and needs.
Healthy Connections
Quarry Hill's close ties to healthcare organizations, locally and beyond, guarantees residents easy access to a wide range of health services and specialties. Quarry Hill is a part of a nonprofit family of organizations, including Pen Bay Medical Center (a certified Primary Stroke Center), Waldo County General Hospital, Penobscot Shores and Pen Bay Physicians & Associates. Our system's membership in MaineHealth connects our organization to the resources and expertise of the state's largest healthcare system and its largest hospital (Maine Medical Center in Portland) and home health agency, MaineHealth Care at Home.
Extended Care
Quarry Hill is Midcoast Maine's premier extended care, older-adult community, providing independent living, traditional assisted living and secure assisted living for individuals with Alzheimer's and other forms of dementia. This comprehensive continuum gives you the assurance of priority access to all the care you'll likely ever need.
Senior Services Physician Practice
Quarry Hill is the first retirement community of its kind in Maine to have an onsite primary care practice dedicated exclusively to caring for its residents. Headed by our Senior Services Physician Specialist and nurse practitioner, the practice offers primary care services to residents throughout our community.
Health Monitoring
In independent living, our full-time health services coordinator promotes residents' health and well-being. A registered nurse/case manager, the coordinator stands ready to help residents transition, as needed, from one part of our extended care continuum to another, identify health-related issues and maintain independence as they grow older.
In assisted living, our nursing staff is on duty at all times to monitor health needs; respond to emergencies; oversee medication management; and communicate changes in health status to physicians, family members and other concerned representatives. Full-time nurse managers in the Terraces (traditional assisted living) and the Courtyard (assisted living for those with Alzheimer's and other forms of dementia and memory loss) develop an individualized service plan for each resident, perform functional and health assessments and oversee day-to-day care.
Fitness Classes
In independent living, regular on-site offerings run the gamut from strength and flexibility and seated exercise, to Wii bowling and golf, to stress-reducing chair yoga. Residents are always welcome to use our Fitness Room, equipped with treadmill, stationary bikes, a rowing machine and other exercise equipment.
In addition, Quarry Hill maintains a close relationship with the Penobscot Bay YMCA, located a short walk from our community. Many of our residents make liberal use of the Y's outstanding facility—which includes two indoor pools, an indoor track and an extensive fitness center—and numerous classes specially designed for older adults. YMCA fitness specialists conduct fitness classes at Quarry Hill, and some of our health-and-wellness educational programs are hosted by the Y.
Assisted living residents benefit from a variety of regular, on-site classes such as Men's Gym, Ladies' Gym and other fitness classes, offered in a lighthearted and encouraging atmosphere.
Educational and Informative Program Series
Quarry Hill's Adventures in Living Well series helps keep minds active and agile and spirits vital. Monthly educational programs range from art, music, nature, literature and travel, to history and health.
From hearing loss to joint replacement to healthy meals for singles, Quarry Hill's Going Strong series focuses on health topics of particular concern to older adults.
Quarry Hill's Women After 50 series offers educational programs aimed at building a sense of community among women age 50 and better.
Learn more about our upcoming programs.
In addition, Pen Bay Medical Center and Waldo County General Hospital offer a wide variety of programs and classes to the community through the wellness initiative, Journey to Health. Journey to Health's mission is to help lead our community towards healthier lifestyles by encouraging consistent exercise and better nutrition, and to support efforts that help to better deal with life's stressors.
Emergencies: We've Got You Covered
Quarry Hill offers 24-hour emergency response. Nursing staff, as well as maintenance personnel, are on duty around the clock. In addition, every Quarry Hill residence has at least one emergency response pullcord, and emergency-response pendants or wristbands are available to all residents of the Anderson Inn (included for assisted living residents).
Support Groups
Quarry Hill hosts free Parkinson's disease and Alzheimer's disease support groups for those living with these conditions and for their loved ones and caregivers.
Treatment Forms and Information
When you need medical care, you have the right to make choices about that care. But there may come a time when you are so sick that you can't make your choices known. You can stay in charge by putting your choices in writing.