Home Ownership… Without the Hassle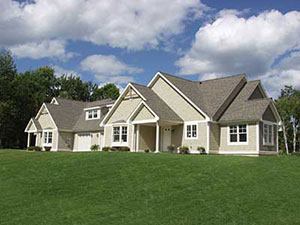 Quarry Hill's handsome cottage homes combine classic coastal architecture with the comforts and amenities of today. The cottages were designed with one goal in mind: to free you from the chores and burdens of home ownership, so you have more time for family, friends and fun.
One-Floor Living
Each cottage offers easy, one-floor living, complete with two bedrooms, two baths, living room, dining room, fully applianced kitchen, in-floor radiant heat, security system, washer and dryer, attached garage, sunroom, patio, pleasing views and abundant natural light. Larger homes have loft rooms; the largest also have dens.
Ownership Builds Equity
The Quarry Hill Association, a cooperative, owns the cottages. When you purchase a cottage, you purchase stock in the cooperative representing the value of the residence. Should you relocate, your stock will be sold at a price reflecting the home's current market value. You receive the proceeds of the sale, minus resale and refurbishing fees.
Value for Your Dollar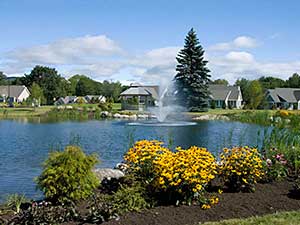 As a cottage resident, you'll pay one monthly fee that covers property taxes, insurance, water and sewer, cable TV, high-speed internet, repairs and maintenance, snow and trash removal, grounds maintenance, 24-hour emergency monitoring system and staff, the support of Quarry Hill's on-site health services coordinator and scheduled transportation. Monthly fees contribute to the cooperative's Replacement Reserve Fund, which provides protection for cottage residents from many of the most significant costs of ownership, such as re-roofing and replacement of major appliances. Plus…
you'll enjoy full access to all of the activities, programs and amenities offered to every member of our independent living community;
you'll be welcome to dine anytime, by reservation, in the Quarry Hill dining room at reasonable per-meal rates;
you'll achieve true peace of mind, knowing that you'll have priority access to a hierarchy of care, including traditional assisted living and specialized assisted living for individuals with dementia.
Cottage Floor Plans
Dimensions and window locations may vary.
Cottage F – 1,100 Sq. Ft., 2 bedrooms, 1.5 baths
Cottage G – 1,350 Sq. Ft., 2 bedrooms, 2 baths, loft
Cottage H – 1,632 Sq. Ft., 2 bedrooms, 2 baths, den, loft
Community Map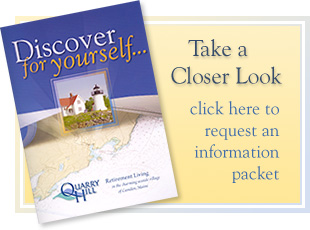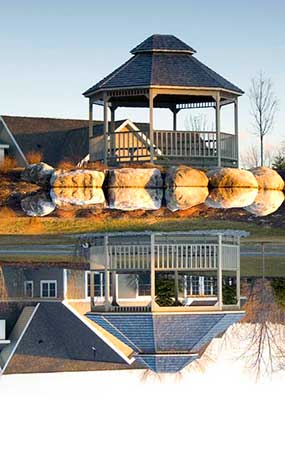 What People are Saying
"From our cottage we can see the mountains that slope down to the sea."
"The staff here is so very responsible and responsive to our needs."
"We love the wine-and-cheese parties, birthday socials, and holiday celebrations-not to mention the presentations on everything from art to the Arctic. We're in seventh heaven."