Food, Glorious Food: Dining at Quarry Hill
Great food, served in beautiful surroundings, reigns among the everyday luxuries you'll enjoy from day one at Quarry Hill. Each elegantly appointed dining room blends the comforts of home with the graciousness of a fine restaurant, creating the backdrop for a dining experience that's among the best of its kind in Maine.
In Independent Living, discover a fetish for freshness, with succulent Maine seafood, garden produce and other offerings prepared each day from scratch by our team of skilled chefs. With at least four different entrees at every meal—and our staff's reputation for honoring special requests—no craving goes unsatisfied. And that goes double for liquid refreshment: outstanding beers, wines, coffees and teas are available for those so inclined.
In Assisted Living , you'll find the fare simpler but just as delicious. Familiar comfort food? Enticing new tastes? Choose what you will from each day's varied menu-it's all prepared with Quarry Hill's signature emphasis on fresh, wholesome ingredients and tailor-made to bring even reluctant eaters to the table.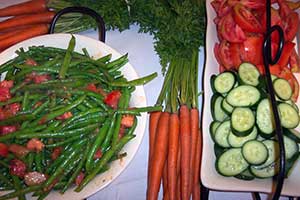 At Quarry Hill, we believe everyone deserves the joys of fine dining. So we make it easy. Residents of Quarry Hill's Independent Living apartments enjoy dinner Monday through Saturday, as well as brunch on Sunday, as part of their monthly rental agreement. Other Anderson Inn residents receive three meals daily, plus snacks. Cottage owners, members of our Priority List, family and friends are invited to come anytime, by reservation, for dinner or brunch (reasonable per-meal fees apply). For larger gatherings, we even offer a private dining room with menus customized to any occasion.
A Sample Menu from Our Independent Living Dining Room
Tomato, Basil & Fresh Mozzarella Salad
Cream of Broccoli Soup
Seafood Newburg with Maine Lobster, Shrimp, Crab, and Scallops
Chicken Cacciatore Baked with Mushrooms, Tomatoes, White Wine & Herbs
Pan-Fried Center Cut Pork Chops with Rosemary Mustard Sauce
Pizza Loaded with Vegetables & Pepperoni
Roasted Mushrooms, Zucchini & Tomatoes
Parsley Buttered Potatoes
Green Beans Almondine
Pureed Carrots & Turnips
Maine Wild Blueberry Pie
Pumpkin Cheesecake
White Chocolate Chip Cookies
Butterscotch Pudding Parfaits
Fresh Fruit, Ice Cream, or Sherbet