History & Values
As you get to know Quarry Hill, you'll notice something special: We're not part of some big, faceless corporation. We're homegrown, locally owned and managed by people you'll probably run into at the grocery store.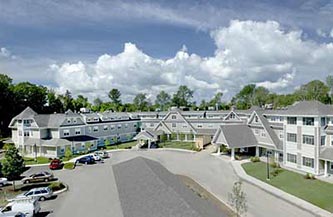 Our commitment to community goes back to the opening of our predecessor, the Camden Community Hospital (CCH), in 1960. CCH was a true community hospital. Neighbors and summer visitors alike contributed to the building fund-so generously, in fact, that the modern, fully equipped hospital was able to open debt free. In 1976, the town added a 203-bed wing dedicated to providing long- and short-term nursing care plus rehabilitation services. The two facilities became known collectively as the Camden Community Hospital and Health Care Center.
The hospital closed in 1982, following the opening of Penobscot Bay Medical Center in Rockport, but the health care center continued to provide nursing care. In 1996, a task force consisting of members of the community, local government officials and others began looking for new uses for the old hospital site. The concept of an extended-care retirement community emerged as the best way to serve the area's healthcare needs; and in 2002, the original hospital and nursing home were taken down, making way for Quarry Hill.
In July 2023, the short-and long-term nursing care that had been provided at the Gardens at Quarry Hill transitioned to Breakwater Commons, a new center located in Rockland. Simultaneously, the Knox Center in Rockland closed and transferred its short-and long-term care services to Breakwater Commons. Why, you ask? Given the small size of the Gardens at Quarry Hill and the age and design of the Knox Center, leaders within our organization concluded that the best solution toward a sustainable future for nursing care would be to build a new, state-of-the-art center capable of delivering, for years to come, the kind of care we all want for ourselves and our loved ones.
Today, Quarry Hill continues the tradition of caring for the people of Midcoast Maine by providing unsurpassed independent living, traditional assisted living and specialized assisted living memory-loss care. We're a proud member of a local nonprofit family of organizations, including Pen Bay Medical Center and Pen Bay Physicians & Associates, and the greater MaineHealth system—all committed heart and soul to the well-being of the people we serve.
Our Mission
To provide a full range of living options, high-quality health services and individualized care plans designed to respect older adults' varied interests, abilities and needs and promote independence and well-being.